Get to know us.
Meet our staff!
We invite you to meet the expert care team who will care for you or your loved one. At Ecumen Prairie Lodge, we are alert to our residents' ever-changing health care needs.
We encourage everyone in our community to reach their highest level of independence while enjoying lively activities in a warm and welcoming setting.

Jennifer Turek
Executive Director
Contact: JenniferTurek@ecumen.org
Jennifer has worked for Ecumen for 8 yearsyears – two years as Clinical Operations Consultant at the home office, and six years at Ecumen Centennial House in Apple Valley. Jennifer graduated from Minnesota State University, Mankato in December of 2001 and is a 2016 graduate of Velocity, Ecumen's leadership program. Jennifer currently lives in Lakeville, MN and spends her free time  making crafts, baking, and being with family and friends.

Jennifer Bonebrake
Social Services Specialist
Contact: JenniferBonebrake@ecumen.org
Jennifer started working at Prairie Lodge in 2018 as the Social Services Specialist. She has been in the social and human services field for over 20 years.
She has worked in direct care, assessments, guardianship, and the financial aspect with residents both directly and at the county level. She loves the work she does!
Aside from work, she has a large family, and is usually watching her children play basketball, dance, do karate or build and operate robots. Jennifer also has a passion for animals and the outdoors.

Marta Yakovleva – MPRA, RRT-ACCS, RN
Clinical Director
Contact: MartaYakovleva@ecumen.org
Marta joined Prairie Lodge as the Director of Patient Care in January of 2019.
She is a registered nurse and a registered respiratory therapist. She has been in health care for the past 19 years. Marta started as an aide at a nursing home, while continuing her education and going to college. She graduated from Western Kentucky University with a Master of Public Administration degree in 2008.
Marta truly enjoys helping people and strives to make a difference. She loves photography, music and arts. She is also fond of walking and hiking. Presently, her favorite past time has been listening to radio and playing with her children. She looks forward to a long and satisfying career with Ecumen Prairie Lodge.

Alexandra Miller
HR Business Office Specialist
Contact: AlexandraMiller@ecumen.org
Alexandra joined Ecumen in 2018 as the HR Business Office Specialist for Prairie Lodge. She graduated from MSU Mankato and started working in the senior housing industry in the greater Mankato area.
Alexandra loves the idea of not only working with the staff – but also getting to help and spend time with the ultimate customer everyday – the residents. Outside of work she enjoys spending time with my friends, family, and cat Duchess.

Nathan Dunbar
Resident Services Coordinator
Contact: Nupole-NathanDunbar@ecumen.org
Nathan has been with Ecumen since 2018 as a Resident Services Coordinator at Prairie Lodge.  He likes his job and enjoys interacting with the Residents.
Nathan loves sports and enjoys refereeing soccer; he referees women, men, kids, and high school teams.  In his spare time, he listens to music and reads. For the most part, he likes to be on the quiet side and is always thinking about something.

Mandi Hogan
Life Enrichment
Contact: AmandaHogan@ecumen.org
Mandi has been working in the Life Enrichment Department at Prairie Lodge for nearly 4 years.  She absolutely loves working with the residents at Prairie Lodge, as well as her prior work in assisted living/memory care and volunteer visits in the past. Mandi runs creative programming, manicures and many other programs at Prairie Lodge.  She loves hearing the wisdom, life experience and joy that comes from each and every resident with whom she encounters.
Outside of Prairie Lodge, Mandi enjoys art and creativity of all sorts, and owns her own jewelry business. She also likes to sing, spend time outdoors (when the weather permits!), camp in the summer, travel, and especially likes to visit her family on the west coast.

Sherrie Dahlin
Life Enrichment
Contact: SherrieDahlin@ecumen.org
Sherrie has been with Ecumen Prairie Lodge since 2009 in the Life Enrichment Department. Sherrie is a Certification Occupational Therapy Assistant and has worked with seniors for over 40 years in nursing homes and assisted living. Through the years she has been in charge of various activities such as wellness programs with residents, Live2B Healthy exercise group, drama group, and oversaw Kairos Alive! Sherrie also enjoys driving the bus for the resident's outings. In the summer Sherrie helps the residents to care for all of the plants they have in their raised gardens.
In her past time she loves to be with family, traveling, camping, fishing, and gardening. She also enjoys being creative with crafts and sewing. For the past 4 years, she has belonged to the Minnesota Dahlia Association and has won several ribbons including Champion ribbons for her flowers.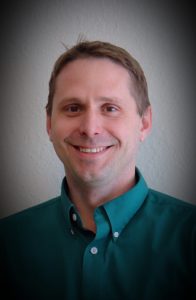 Justin Klunk
Food Service Manager
Contact: JustinKlunk@ecumen.org
Justin graduated from Augsburg College in 2005 with a Business Management Degree and Minor in Marketing. Justin has been in Food Service since 2001 and a Food Service Manager since 2005. He lives in Andover with his girlfriend and 2 step-children, Camron, 14, and Mena, 11, as well as their 3 year old son, Louis. In his free time, Justin enjoys camping, fishing, hunting, going up north to the cabin and spending time with his family. Justin has been with Ecumen Prairie Lodge since June of 2018.

Greg Lewis
Maintenance Supervisor
Contact: GregLewis@ecumen.org
Greg started his career as a carpenter and learned many things from the other trades by just asking questions. He has been doing maintenance for the better part of 10 years. His passion is his job.
Greg has been married to his lovely wife Lori for over 33 years and they have three beautiful daughters, one son-in-law and a very beautiful granddaughter. In his spare time he enjoys woodworking, helping neighbors on their projects, and fishing.